「Biteki 90 Sen Vegelife Enzyme Liquid」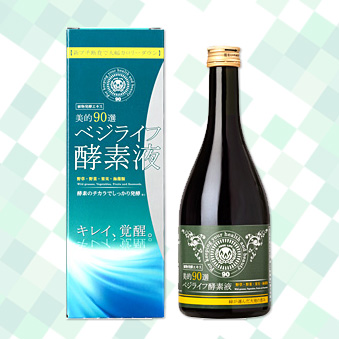 An enzyme drink that has been massively popular since its launch in 2012.
Our official monitoring program participant Brittney Hamada has lost significant weight with this enzyme replacement drink diet.
Biteki 90 Sen Vegelife Enzyme Liquid, a fermented plant extract consisting of 90 ingredients, including vegetables, wild herbs, fruits, and seaweeds that have been matured and fermented with the power of enzymes for over three years, Biteki 90 Sen Vegelife Enzyme Liquid is very low in calories yet has a refreshing fruity taste and gives a feeling of stomach fullness.
Young women who had been unable to keep to a diet have also given us very positive feedback such as, "This diet is simple and easy to keep to. All you have to do is replace a meal a day with 20 ml of this delicious enzyme drink," and "I can keep to my diet without getting tired of it because Biteki 90 Sen Vegelife Enzyme Liquid can be mixed into various drinks."
---
「Helaslim」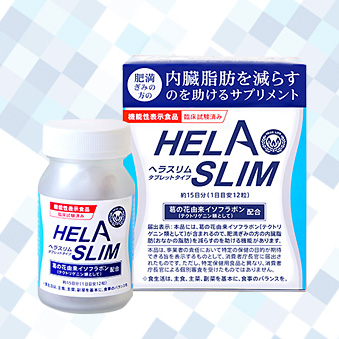 A functional food that helps to reduce visceral fat.
Unlike other health foods whose effects are uncertain, the results of a human clinical and safety test on Helaslim, its active mechanisms, and other reliable evidence have been accepted by the Consumer Affairs Agency. Information on the evidence is also published on the Consumer Affairs Agency's official website.
---
「Shiny SILICA」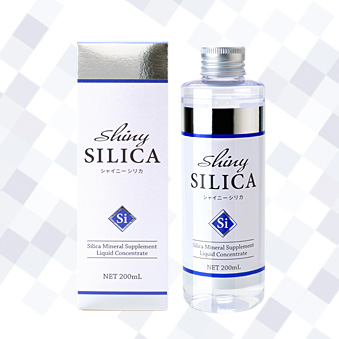 In recent years, people have been paying great attention to silicon, known as a "beauty mineral", for beauty care.
Shiny SILICA is a 100% pure vegetable silicon solution. Shiny SILICA allows you to easily take silicon, which decreases in your body as you age, simply by mixing it into your usual drinks.
Shiny SILICA guarantees a silicon concentration of 10,000 ppm or more, a much higher concentration than competing products.
---
「KAMINOWA Restorer」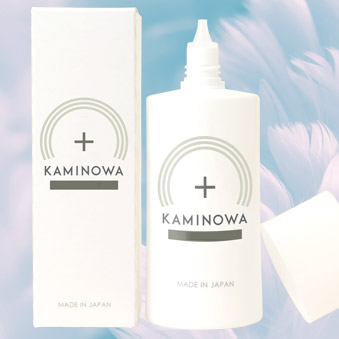 It is a hair restorer designed for women released in 2019, which is a popular scalp care item not only in Japan but also overseas.
It is a rare gel-type for hair restorers products that can be used without worrying about dripping. Besides, because it has a stylish package and does not have the unpleasant odor peculiar to hair restorers, we have received many joyful voices from users who are challenging hair growth, such as "I am not ashamed to use it" and "It has an excellent usability."
---
「KAMINOWA Organic Shampoo&Treatment」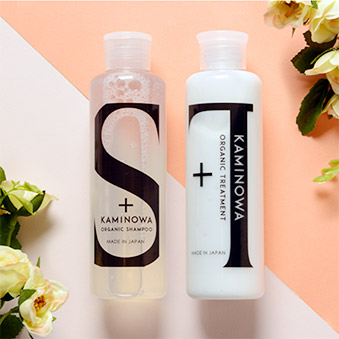 It is a non-silicone organic shampoo and treatment contains6 types of naturally derived ingredients.
Gently wash your hair with a refreshing scent and moderate foaming.
---
「KAMINOWA Supplement」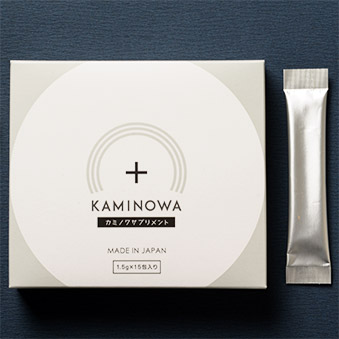 It is a haircare supplement released in 2020.
This product contains Japanese unique popular ingredients such as "Wasabi Sulfinyl" and "AnaGain™ Nu."
It is a powder type supplement that is easy to take.
Delicious strawberry flavor makes it an easy-to-continue supplement.
---
「YUKINOUE」
It is an all-in-one gel that helps gently moisturize dry skin.
There is no need for troublesome processes such as applying lotion, milky lotion, and moisturizing cream in conventional skin care. Just simply apply it to your skin after washing your face, and it will penetrate and moisturize your skin naturally.
Ukinoue is pleased by various people, including women who are busy and have difficulty taking their own time. Women who have sensitive skin and do not want to touch their faces too much."
---
「URUHIME MOMOKO」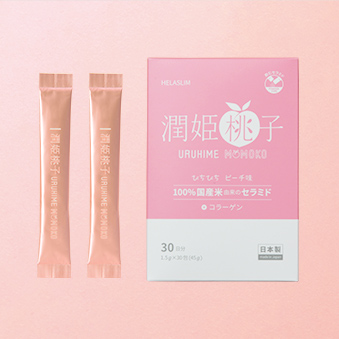 It is a powder-type ceramide supplement containing 1.8 mg of glucosylceramide derived from 100% Japanese domestic rice.
It contains collagen, vitamin C, and B vitamins as beauty ingredients.
A smooth stick-shaped powder type that melts in your mouth, allows you to easily take in ceramide at any time and place. Its slightly sweet peach taste makes you want to eat it like a snack.
---
「YURURUMOON」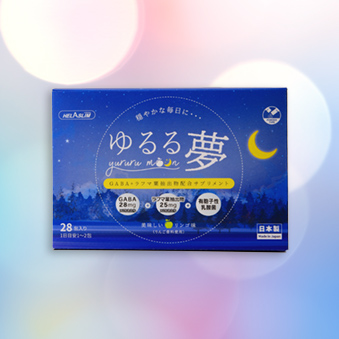 Yururumu is a powder-type supplement, which contains GABA + Rafuma leaf extract + spore-forming lactic acid bacteria.
It is a stick-shaped powder type that melts in the mouth smoothly, and can be easily taken at any time. It is refreshing apple flavor.
You cannot make inquiries about becoming a distributor on the pages selling products.
Please contact us through the inquiry form on this page or by phone.
Our features
We propose to our customers only health products and cosmetics that can sell.

We have experience developing over 100 of our own products, and we have sold all of these on our website to vet their sales performance. Based on the results, we propose to customers only products with good sales performance that we can recommend with confidence.

We prioritize distributor benefits

Having run our online shop for over ten years, we have experienced many successful as well as unsuccessful cases. We provide our know-how generously, from attention-grabbing catchphrases and sales promotion materials that guarantee massive sales volumes to the "don'ts" of the business.

We propose only products that we manufacture

Products we propose are not supplied by other companies. With the best proposals we make, you will no longer need to waste time looking for distributors closer to the manufacturer.

Distribution opportunities available inside and outside Japan

We welcome overseas and domestic distributors. Please feel free to contact us for minimum lots, transportation costs, delivery deadlines, and other conditions. Sales promotion materials are available in English, Chinese, and other languages.

All sales channels accepted

You can sell our products through any sales channel, be it brick-and-mortar shops (such as department stores, drugstores, variety shops, beauty salons, and duty-free shops) or online shops. Please check for the restrictions on sales channels for some products.